US
>
Virginia
>
Multiple Counties
Listen
Feed
Genre
Listeners
Player Selection
Links
Status

Virginia State Police - Divisions 4 and 6





Div. 4 - counties Bland, Buchanan, Carroll, Dickenson, Giles, Grayson, Lee, Pulaski, Russell, Scott, Smyth, Tazewell, Washington, Wise, and Wythe

Public Safety

8
Online
Feed Notes
Digital SDR for Virginia STARS P25 system. Connected to towers in Carroll County & Bland County
Div 4 HQ is Whyte. Div 6 HQ is Salem.
Div. 4 - counties Bland, Buchanan, Carroll, Dickenson, Giles,
Grayson, Lee, Pulaski, Russell, Scott, Smyth, Tazewell, Washington, Wise, and Wythe
VSP encrypts the dispatch channel during major incidents, just be aware after the inital dispatch that maybe all we hear until the incident is resolved.
Can also hear Virginia Department of Transportation Safety Service Patrol which is ID 5280 Alpha tag DOT-Tac2.
This feed may not be able to hear all the State Troopers in this area but Dispatch for Div 4 & 6 is clear.
VSP Wyt 1 has priority.
Medflight is a medevac the State Police operates.
Unkown how much the mutual aid channels are used.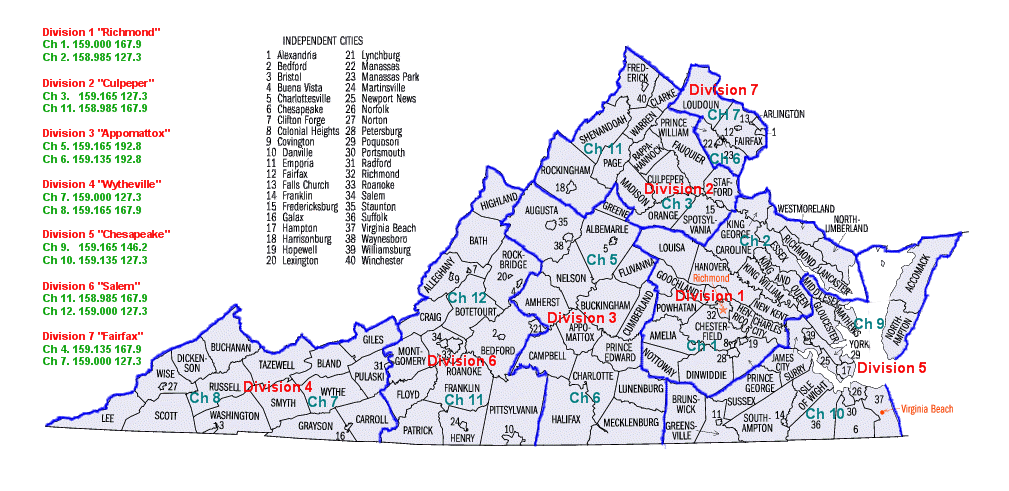 Virginia State Police Talkgroups
| DEC | HEX | Mode | Alpha Tag | Description | Tag |
| --- | --- | --- | --- | --- | --- |
| 751 | 2ef | D | VSP Wyt 1 | Wytheville 1 | Law Dispatch |
| 753 | 2f1 | D | VSP Wyt 2 | Wytheville 2 | Law Dispatch |
| 783 | 30f | D | VSP Wyt 3 | Wytheville 3 | Law Dispatch |
| 767 | 2ff | D | VSP Sal 1 | Salem 1 | Law Dispatch |
| | | | | |
| --- | --- | --- | --- | --- |
| 5280 | 14a0 | D | DOT Tac 2 | Tac 2 (Safety Service Patrol - Salem) |
Mutual Aid Groups
| DEC | HEX | Mode | Alpha Tag | Description | Tag |
| --- | --- | --- | --- | --- | --- |
| 6122 | 17ea | D | VA MCall 1 | MCall 1 | Interop |
| 6123 | 17eb | D | VA Comlinc 1 | Comlinc 1 | Interop |
| 6124 | 17ec | D | VA Mutual 1 | Mutual 1 | Interop |
| 6125 | 17ed | D | VA CmdPost 1 | Command Post 1 | Interop |
| 6126 | 17ee | D | VA PubServ 1 | Public Service 1 | Interop |
| 6127 | 17ef | D | VA Comlinc 1 | Comlinc 1 | Interop |
| 6128 | 17f0 | D | VA MCall 2 | MCall 2 | Interop |
| 6129 | 17f1 | D | VA Comlinc 2 | Comlinc 2 | Interop |
| 6130 | 17f2 | D | VA Mutual 2 | Mutual 2 | Interop |
| 6131 | 17f3 | D | VA CmdPost 2 | Command Post 2 | Interop |
| 6132 | 17f4 | D | VA PubServ 2 | Public Service 2 | Interop |
| 6133 | 17f5 | D | VA Comlinc 2 | Comlinc 2 | Interop |
| 6134 | 17f6 | D | VA MCall 3 | MCall 3 | Interop |
| 6135 | 17f7 | D | VA Comlinc 3 | Comlinc 3 | Interop |
| 6136 | 17f8 | D | VA Mutual 3 | Mutual 3 | Interop |
| 6137 | 17f9 | D | VA CmdPost 3 | Command Post 3 | Interop |
| 6138 | 17fa | D | VA PubServ 3 | Public Service 3 | Interop |
| 6139 | 17fb | D | VA Comlinc 3 | Comlinc 3 | Interop |
| 6140 | 17fc | D | VA MCall 5 | MCall 5 | Interop |
| 6141 | 17fd | D | VA Comlinc 5 | Comlinc 5 | Interop |
| 6142 | 17fe | D | VA Mutual 5 | Mutual 5 | Interop |
| 6143 | 17ff | D | VA CmdPost 5 | Command Post 5 | Interop |
| 6144 | 1800 | D | VA PubServ 5 | Public Service 5 | Interop |
| 6145 | 1801 | D | VA Comlinc 5 | Comlinc 5 | Interop |
| 6146 | 1802 | D | VA MCall 7 | MCall 7 | Interop |
| 6147 | 1803 | D | VA Comlinc 7 | Comlinc 7 | Interop |
| 6148 | 1804 | D | VA Mutual 7 | Mutual 7 | Interop |
| 6149 | 1805 | D | VA CmdPost 7 | Command Post 7 | Interop |
| 6150 | 1806 | D | VA PubServ 7 | Public Service 7 | Interop |
| 6151 | 1807 | D | VA Comlinc 7 | Comlinc 7 | Interop |
| 6152 | 1808 | D | VA MCommand1 | MCommand 1 | Interop |
| 6154 | 180a | D | VA State 1 | State 1 | Interop |
| 6155 | 180b | D | VA Mgmt A | Management A | Interop |
| 6372 | 18e4 | D | VA MCall 4 | MCall 4 | Interop |
| 6373 | 18e5 | D | VA Comlinc 4 | Comlinc 4 | Interop |
| 6374 | 18e6 | D | VA Mutual 4 | Mutual 4 | Interop |
| 6375 | 18e7 | D | VA CmdPost 4 | Command Post 4 | Interop |
| 6376 | 18e8 | D | VA PubServ 4 | Public Service 4 | Interop |
| 6377 | 18e9 | D | VA Comlinc 4 | Comlinc 4 | Interop |
| 6378 | 18ea | D | VA MCall 6 | MCall 6 | Interop |
| 6379 | 18eb | D | VA Comlinc 6 | Comlinc 6 | Interop |
| 6380 | 18ec | D | VA Mutual 6 | Mutual 6 | Interop |
| 6381 | 18ed | D | VA CmdPost 6 | Command Post 6 | Interop |
| 6382 | 18ee | D | VA PubServ 6 | Public Service 6 | Interop |
| 6383 | 18ef | D | VA Comlinc 6 | Comlinc 6 | Interop |
| 6387 | 18f3 | D | VA Mut Inv 6 | Mutual Investigation 6 | Interop |
Department of Emergency Management Talkgroups


| DEC | HEX | Mode | Alpha Tag | Description | Tag |
| --- | --- | --- | --- | --- | --- |
| 83 | 053 | De | DEM MedflightDsp | Medflight Dispatch | EMS Dispatch |