Australia
>
New South Wales
Listen
Feed
Genre
Listeners
Player Selection
Links
Status

Primary Emergency Services - Statewide NSW





Covering NSW & ACT PSN (GRN) network. Coverage: RMS, RFS, SES, Ambulance NSW, Analog Police, Public Services, Port Authority, Parks Services. Now available with display on YouTube: listen.sydney (type link in new window)



Status: There are some audio issues on this feed, additional feed can be found on YT with better audio. This is temporary.
Public Safety

5
Online
Feed Notes
Did you know you can now see the display live on YouTube?
The Youtube channel has been operating now for almost a year and allows you to see the currently channel information, latest updates and the broadcast location live camera. I am urging all users to join the channel as I may leave broadcastify due to some legal issues in the future.
Scanner Australia Broadcasting Emergency Services on YouTube Live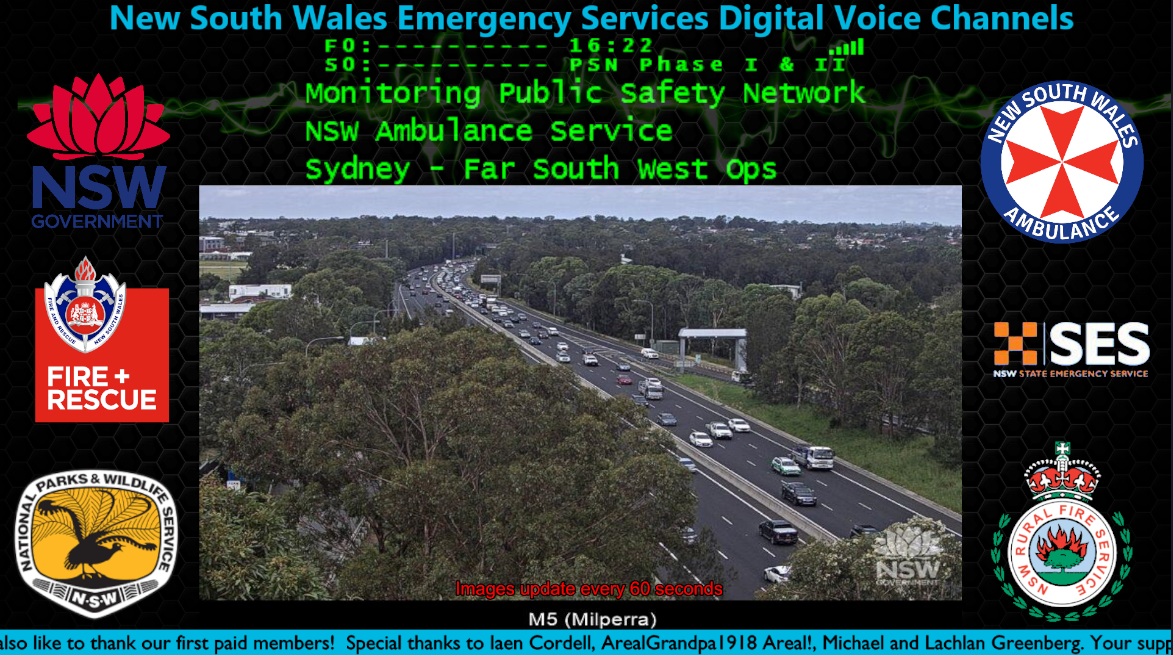 It is HIGHLY recommended to follow me on twitter on @GRN_Live_Stream as I post status updates, giveaways and other outage information to Twitter or visit Scanner Australia for information.
REMINDER: You can now listen to this feed on youtube at 12 hour intervals. Go to Youtube via this link. I have also made the archives available under Scanner Australia channel on Youtube.
Archives are available going back about a year already on YouTube, allowing you to select a day and retrieve any information you are looking for.
Any advertisements you may be seeing on YouTube are not from me - my channel is NOT monetized. Please dont complain to me about ads - Complain to YouTube or get a Premium Subscription (or adblocker).
The purpose of this project is to give all residents of NSW and parts of ACT the chance to get unfiltered, unsanitised information directly from government communications. The government is making it harder and more expensivie to operate such a project but with your help, we can continue on for years to come. If you think you can help please think about donating via Paypal (https://www.paypal.com/paypalme/scanneraustralia) or Buy Me a Coffee - find all these links in the descriptions of my live streams and archived videos.
This broadcast will cover only the following services during CRISIS situations. On non crisis days you will be able to listen to the entire NSW broadcasts through the NSW GRN as the stream would just be silent most of the time.
On Standard Mode:
On Emergency Mode:
State Emergency Services
Ambulance NSW Service
Fire & Rescue NSW Service
Rural Fire Brigade NSW Service
This is a much requested stream which is cutting out non-emergency related broadcasts plus this feed covers statewide TalkGroupIDs (TGIDs). This stream is very different to the one which is the Sydney Surrounds Broadcast. If you want to get a more comprehensive report on ALL services covered by the GRN please use the other stream which covers Sydney Surrounds, Sydney City and outer suburbs. This covers everything on standard days but if there is a bushfire, flood, storm or civil unrest, the broadcast will convert to Emergency Tracing only.
Database Systems
Channels (System - GRN Sydney Area Group - SES)

| Channel Name | TGID | Record | Lockout | Alert Tone | Alert Level |
| --- | --- | --- | --- | --- | --- |
| SN-TAC1 | 10201 | 0 | 0 | Off | Auto |
| SN-TAC2 | 10202 | 0 | 0 | Off | Auto |
| SN-TAC3 | 10203 | 0 | 0 | Off | Auto |
| SN-TAC4 | 10204 | 0 | 0 | Off | Auto |
| SN-TAC5 | 10205 | 0 | 0 | Off | Auto |
| SN-TAC6 | 10206 | 0 | 0 | Off | Auto |
| SNSTRAT | 10207 | 0 | 0 | Off | Auto |
| SS-TAC1 | 10208 | 0 | 0 | Off | Auto |
| SS-TAC2 | 10209 | 0 | 0 | Off | Auto |
| SS-TAC3 | 10210 | 0 | 0 | Off | Auto |
| SS-TAC4 | 10211 | 0 | 0 | Off | Auto |
| SS-TAC5 | 10212 | 0 | 0 | Off | Auto |
| SS-TAC6 | 10213 | 0 | 0 | Off | Auto |
| SSSTRAT | 10214 | 0 | 0 | Off | Auto |
| SW-TAC1 | 10215 | 0 | 0 | Off | Auto |
| SW-TAC2 | 10216 | 0 | 0 | Off | Auto |
| SW-TAC3 | 10217 | 0 | 0 | Off | Auto |
| SW-TAC4 | 10218 | 0 | 0 | Off | Auto |
| SW-TAC5 | 10219 | 0 | 0 | Off | Auto |
| SW-TAC6 | 10220 | 0 | 0 | Off | Auto |
| SWSTRAT | 10221 | 0 | 0 | Off | Auto |
| SW-RCR | 10222 | 0 | 0 | Off | Auto |
| HN-CNT1 | 10223 | 0 | 0 | Off | Auto |
| HN-CNT2 | 10224 | 0 | 0 | Off | Auto |
| HN-CNT3 | 10225 | 0 | 0 | Off | Auto |
| HN-CNT4 | 10226 | 0 | 0 | Off | Auto |
| HN-CNT5 | 10227 | 0 | 0 | Off | Auto |
| TRNSPRT | 10228 | 0 | 0 | Off | Auto |
| CO-ORD | 10229 | 0 | 0 | Off | Auto |
| TSKFCE1 | 10230 | 0 | 0 | Off | Auto |
| TSKFCE2 | 10231 | 0 | 0 | Off | Auto |
| TSKFCE3 | 10232 | 0 | 0 | Off | Auto |
| TSKFCE4 | 10233 | 0 | 0 | Off | Auto |
| S/OPS1 | 10234 | 0 | 0 | Off | Auto |
| S/OPS2 | 10235 | 0 | 0 | Off | Auto |
| S/OPS3 | 10236 | 0 | 0 | Off | Auto |
| S/OPS4 | 10237 | 0 | 0 | Off | Auto |
| S/OPS5 | 10238 | 0 | 0 | Off | Auto |
| S/OPS6 | 10239 | 0 | 0 | Off | Auto |
| S/OPS7 | 10240 | 0 | 0 | Off | Auto |
| S/OPS8 | 10241 | 0 | 0 | Off | Auto |
| S/OPS9 | 10242 | 0 | 0 | Off | Auto |
| S/OPS10 | 10243 | 0 | 0 | Off | Auto |
| S/OPS11 | 10244 | 0 | 0 | Off | Auto |
| S/OPS12 | 10245 | 0 | 0 | Off | Auto |
| COMMS1 | 10246 | 0 | 0 | Off | Auto |
| DOCS-LO | 10247 | 0 | 0 | Off | Auto |
| DOCS-ST | 10248 | 0 | 0 | Off | Auto |
| CN-TAC1 | 20201 | 0 | 0 | Off | Auto |
| CN-TAC2 | 20202 | 0 | 0 | Off | Auto |
| CN-TAC3 | 20203 | 0 | 0 | Off | Auto |
| CN-TAC4 | 20204 | 0 | 0 | Off | Auto |
| CN-TAC5 | 20205 | 0 | 0 | Off | Auto |
| CN-TAC6 | 20206 | 0 | 0 | Off | Auto |
| CN-TAC7 | 20207 | 0 | 0 | Off | Auto |
| CN-TAC8 | 20208 | 0 | 0 | Off | Auto |
| CNSTRAT | 20209 | 0 | 0 | Off | Auto |
| CW-TAC1 | 20210 | 0 | 0 | Off | Auto |
| CW-TAC2 | 20211 | 0 | 0 | Off | Auto |
| CW-TAC3 | 20212 | 0 | 0 | Off | Auto |
| CW-TAC4 | 20213 | 0 | 0 | Off | Auto |
| CW-TAC5 | 20214 | 0 | 0 | Off | Auto |
| CWSTRAT | 20215 | 0 | 0 | Off | Auto |
| FW-TAC1 | 20216 | 0 | 0 | Off | Auto |
| FW-TAC2 | 20217 | 0 | 0 | Off | Auto |
| FW-TAC3 | 20218 | 0 | 0 | Off | Auto |
| FW-TAC4 | 20219 | 0 | 0 | Off | Auto |
| FW-TAC5 | 20220 | 0 | 0 | Off | Auto |
| FW-TAC6 | 20221 | 0 | 0 | Off | Auto |
| FWSTRAT | 20222 | 0 | 0 | Off | Auto |
| HU-TAC1 | 20223 | 0 | 0 | Off | Auto |
| HU-TAC2 | 20224 | 0 | 0 | Off | Auto |
| HU-TAC3 | 20225 | 0 | 0 | Off | Auto |
| HU-TAC4 | 20226 | 0 | 0 | Off | Auto |
| HU-TAC5 | 20227 | 0 | 0 | Off | Auto |
| HU-TAC6 | 20228 | 0 | 0 | Off | Auto |
| HUSTRAT | 20229 | 0 | 0 | Off | Auto |
| LA-TAC1 | 20230 | 0 | 0 | Off | Auto |
| LA-TAC2 | 20231 | 0 | 0 | Off | Auto |
| LA-TAC3 | 20232 | 0 | 0 | Off | Auto |
| LA-TAC4 | 20233 | 0 | 0 | Off | Auto |
| LA-TAC5 | 20234 | 0 | 0 | Off | Auto |
| LA-TAC6 | 20235 | 0 | 0 | Off | Auto |
| LASTRAT | 20236 | 0 | 0 | Off | Auto |
| NM-TAC1 | 20237 | 0 | 0 | Off | Auto |
| NM-TAC2 | 20238 | 0 | 0 | Off | Auto |
| NM-TAC3 | 20239 | 0 | 0 | Off | Auto |
| NM-TAC4 | 20240 | 0 | 0 | Off | Auto |
| NM-TAC5 | 20241 | 0 | 0 | Off | Auto |
| NM-TAC6 | 20242 | 0 | 0 | Off | Auto |
| NMSTRAT | 20243 | 0 | 0 | Off | Auto |
| NW-TAC1 | 20244 | 0 | 0 | Off | Auto |
| NW-TAC2 | 20245 | 0 | 0 | Off | Auto |
| NW-TAC3 | 20246 | 0 | 0 | Off | Auto |
| NW-TAC4 | 20247 | 0 | 0 | Off | Auto |
| NW-TAC5 | 20248 | 0 | 0 | Off | Auto |
| NW-TAC6 | 20249 | 0 | 0 | Off | Auto |
| NW-TAC7 | 20250 | 0 | 0 | Off | Auto |
| NW-TAC8 | 20251 | 0 | 0 | Off | Auto |
| NWSTRAT | 20252 | 0 | 0 | Off | Auto |
| OX-TAC1 | 20253 | 0 | 0 | Off | Auto |
| OX-TAC2 | 20254 | 0 | 0 | Off | Auto |
| OX-TAC3 | 20255 | 0 | 0 | Off | Auto |
| OX-TAC4 | 20256 | 0 | 0 | Off | Auto |
| OX-TAC5 | 20257 | 0 | 0 | Off | Auto |
| OX-TAC6 | 20258 | 0 | 0 | Off | Auto |
| OX-TAC7 | 20259 | 0 | 0 | Off | Auto |
| OX-TAC8 | 20260 | 0 | 0 | Off | Auto |
| OXSTRAT | 20261 | 0 | 0 | Off | Auto |
| RT-TAC1 | 20262 | 0 | 0 | Off | Auto |
| RT-TAC2 | 20263 | 0 | 0 | Off | Auto |
| RT-TAC3 | 20264 | 0 | 0 | Off | Auto |
| RT-TAC4 | 20265 | 0 | 0 | Off | Auto |
| RT-TAC5 | 20266 | 0 | 0 | Off | Auto |
| RT-TAC6 | 20267 | 0 | 0 | Off | Auto |
| RT-TAC7 | 20268 | 0 | 0 | Off | Auto |
| RT-TAC8 | 20269 | 0 | 0 | Off | Auto |
| RTSTRAT | 20270 | 0 | 0 | Off | Auto |
| IS-TAC1 | 30201 | 0 | 0 | Off | Auto |
| IS-TAC2 | 30202 | 0 | 0 | Off | Auto |
| IS-TAC3 | 30203 | 0 | 0 | Off | Auto |
| IS-TAC4 | 30204 | 0 | 0 | Off | Auto |
| IS-TAC5 | 30205 | 0 | 0 | Off | Auto |
| IS-TAC6 | 30206 | 0 | 0 | Off | Auto |
| IS-TAC7 | 30207 | 0 | 0 | Off | Auto |
| IS-TAC8 | 30208 | 0 | 0 | Off | Auto |
| ISSTRAT | 30209 | 0 | 0 | Off | Auto |
| ME-TAC1 | 30210 | 0 | 0 | Off | Auto |
| ME-TAC2 | 30211 | 0 | 0 | Off | Auto |
| ME-TAC3 | 30212 | 0 | 0 | Off | Auto |
| ME-TAC4 | 30213 | 0 | 0 | Off | Auto |
| ME-TAC5 | 30214 | 0 | 0 | Off | Auto |
| ME-TAC6 | 30215 | 0 | 0 | Off | Auto |
| ME-TAC7 | 30216 | 0 | 0 | Off | Auto |
| ME-TAC8 | 30217 | 0 | 0 | Off | Auto |
| MESTRAT | 30218 | 0 | 0 | Off | Auto |
| MQ-TAC1 | 30219 | 0 | 0 | Off | Auto |
| MQ-TAC2 | 30220 | 0 | 0 | Off | Auto |
| MQ-TAC3 | 30221 | 0 | 0 | Off | Auto |
| MQ-TAC4 | 30222 | 0 | 0 | Off | Auto |
| MQ-TAC5 | 30223 | 0 | 0 | Off | Auto |
Channels (System - GRN Sydney Area Group - Ambulance NSW)

| Channel Name | TGID | Record | Lockout | Alert Tone | Alert Level |
| --- | --- | --- | --- | --- | --- |
| Nth Inc1 | 20304 | 0 | 0 | Off | Auto |
| Admin 2 | 10302 | 0 | 0 | Off | Auto |
| Admin 5 | 10305 | 0 | 0 | Off | Auto |
| ASNSW | 10309 | 0 | 0 | Off | Auto |
| Mid-West2 | 20308 | 0 | 0 | Off | Auto |
| West Inc1 | 20313 | 0 | 0 | Off | Auto |
| Nth Inc2 | 20305 | 0 | 0 | Off | Auto |
| NE-Ops1 | 20311 | 0 | 0 | Off | Auto |
| MQ-Ops2 | 20310 | 0 | 0 | Off | Auto |
| West Inc2 | 20314 | 0 | 0 | Off | Auto |
| NE-Ops2 | 20312 | 0 | 0 | Off | Auto |
| MQ-Ops1 | 20309 | 0 | 0 | Off | Auto |
| Hunt Hosp | 20306 | 0 | 0 | Off | Auto |
| Gos-Ops | 20303 | 0 | 0 | Off | Auto |
| Mid-West1 | 20307 | 0 | 0 | Off | Auto |
| ASNSW | 10339 | 0 | 0 | Off | Auto |
| West Hosp | 10346 | 0 | 0 | Off | Auto |
| Hunt-Ops | 20302 | 0 | 0 | Off | Auto |
| Workshop | 10342 | 0 | 0 | Off | Auto |
| Newc-Ops | 20301 | 0 | 0 | Off | Auto |
| Sth Hosps | 10344 | 0 | 0 | Off | Auto |
| ASNSW | 10333 | 0 | 0 | Off | Auto |
| Sports | 10341 | 0 | 0 | Off | Auto |
| ASNSW | 10336 | 0 | 0 | Off | Auto |
| ASNSW | 10343 | 0 | 0 | Off | Auto |
| ASNSW | 10334 | 0 | 0 | Off | Auto |
| ASNSW | 10345 | 0 | 0 | Off | Auto |
| ASNSW | 10335 | 0 | 0 | Off | Auto |
| Syd Rural Ops | 10331 | 0 | 0 | Off | Auto |
| Syd Outer | 10330 | 0 | 0 | Off | Auto |
| Syd SW | 10329 | 0 | 0 | Off | Auto |
| Syd West | 10328 | 0 | 0 | Off | Auto |
| Syd East | 10327 | 0 | 0 | Off | Auto |
| Syd South | 10326 | 0 | 0 | Off | Auto |
| Syd North | 10325 | 0 | 0 | Off | Auto |
| ASNSW | 10323 | 0 | 0 | Off | Auto |
| ASNSW | 10322 | 0 | 0 | Off | Auto |
| ASNSW | 10321 | 0 | 0 | Off | Auto |
| ASNSW | 10320 | 0 | 0 | Off | Auto |
| PTO Ops 1 | 10319 | 0 | 0 | Off | Auto |
| ASNSW | 10317 | 0 | 0 | Off | Auto |
| NETS | 10306 | 0 | 0 | Off | Auto |
| Admin 4 | 10304 | 0 | 0 | Off | Auto |
| Admin 3 | 10303 | 0 | 0 | Off | Auto |
| MRU | 10301 | 0 | 0 | Off | Auto |
Channels (System - GRN Sydney Area Group - RFS)

| Channel Name | TGID | Record | Lockout | Alert Tone | Alert Level |
| --- | --- | --- | --- | --- | --- |
| GL 1 | 10000 | 0 | 0 | Off | Auto |
| GL 2 | 10001 | 0 | 0 | Off | Auto |
| GL 3 | 10002 | 0 | 0 | Off | Auto |
| GL 4 | 10003 | 0 | 0 | Off | Auto |
| GL 5 | 10004 | 0 | 0 | Off | Auto |
| GL 6 | 10005 | 0 | 0 | Off | Auto |
| GL 7 | 10006 | 0 | 0 | Off | Auto |
| GL 8 | 10007 | 0 | 0 | Off | Auto |
| GL 9 | 10008 | 0 | 0 | Off | Auto |
| GL 10 | 10009 | 0 | 0 | Off | Auto |
| ESO 1 | 10010 | 0 | 0 | Off | Auto |
| ESO 2 | 10011 | 0 | 0 | Off | Auto |
| ESO 3 | 10012 | 0 | 0 | Off | Auto |
| ESO 4 | 10013 | 0 | 0 | Off | Auto |
| ESO 5 | 10014 | 0 | 0 | Off | Auto |
| ESO 6 | 10015 | 0 | 0 | Off | Auto |
| ESO 7 | 10016 | 0 | 0 | Off | Auto |
| ESO 8 | 10017 | 0 | 0 | Off | Auto |
| ESO 9 | 10018 | 0 | 0 | Off | Auto |
| ESO 10 | 10019 | 0 | 0 | Off | Auto |
| ESO 11 | 10020 | 0 | 0 | Off | Auto |
| ESO 12 | 10021 | 0 | 0 | Off | Auto |
| ESO 13 | 10022 | 0 | 0 | Off | Auto |
| ESO 14 | 10023 | 0 | 0 | Off | Auto |
| ESO 15 | 10024 | 0 | 0 | Off | Auto |
| ESO 16 | 10025 | 0 | 0 | Off | Auto |
| ESO 17 | 10026 | 0 | 0 | Off | Auto |
| ESO 18 | 10027 | 0 | 0 | Off | Auto |
| ESO 19 | 10028 | 0 | 0 | Off | Auto |
| ESO 20 | 10029 | 0 | 0 | Off | Auto |
| AVIATN1 | 10030 | 0 | 0 | Off | Auto |
| AVIATN2 | 10031 | 0 | 0 | Off | Auto |
| AVIATN3 | 10032 | 0 | 0 | Off | Auto |
| AVIATN4 | 10033 | 0 | 0 | Off | Auto |
| AVIATN5 | 10034 | 0 | 0 | Off | Auto |
| AVIATN6 | 10035 | 0 | 0 | Off | Auto |
| BLKM HL | 10036 | 0 | 0 | Off | Auto |
| BL MTNS | 10037 | 0 | 0 | Off | Auto |
| CISS | 10038 | 0 | 0 | Off | Auto |
| COM ED1 | 10039 | 0 | 0 | Off | Auto |
| COM ED2 | 10040 | 0 | 0 | Off | Auto |
| COM ED3 | 10041 | 0 | 0 | Off | Auto |
| CMBRLND | 10042 | 0 | 0 | Off | Auto |
| EAST OP | 10043 | 0 | 0 | Off | Auto |
| EXEC OP | 10044 | 0 | 0 | Off | Auto |
| FIU 1 | 10045 | 0 | 0 | Off | Auto |
| FIU 2 | 10046 | 0 | 0 | Off | Auto |
| GOSFORD | 10047 | 0 | 0 | Off | Auto |
| HAWKESB | 10048 | 0 | 0 | Off | Auto |
| HORNSBY | 10049 | 0 | 0 | Off | Auto |
| LDS 1 | 10050 | 0 | 0 | Off | Auto |
| LDS 2 | 10051 | 0 | 0 | Off | Auto |
| MCARTHR | 10052 | 0 | 0 | Off | Auto |
| MEDIA 1 | 10053 | 0 | 0 | Off | Auto |
| MEDIA 2 | 10054 | 0 | 0 | Off | Auto |
| OP COM1 | 10055 | 0 | 0 | Off | Auto |
| OP COM2 | 10056 | 0 | 0 | Off | Auto |
| OP COM3 | 10057 | 0 | 0 | Off | Auto |
| OPS1 | 10058 | 0 | 0 | Off | Auto |
| OPS2 | 10059 | 0 | 0 | Off | Auto |
| OPS3 | 10060 | 0 | 0 | Off | Auto |
| OPS4 | 10061 | 0 | 0 | Off | Auto |
| OPS5 | 10062 | 0 | 0 | Off | Auto |
| OPS6 | 10063 | 0 | 0 | Off | Auto |
| OPS7 | 10064 | 0 | 0 | Off | Auto |
| OPS8 | 10065 | 0 | 0 | Off | Auto |
| OPS9 | 10066 | 0 | 0 | Off | Auto |
| OPS10 | 10067 | 0 | 0 | Off | Auto |
| OPS11 | 10068 | 0 | 0 | Off | Auto |
| OPS12 | 10069 | 0 | 0 | Off | Auto |
| OPS13 | 10070 | 0 | 0 | Off | Auto |
| OPS14 | 10071 | 0 | 0 | Off | Auto |
| OPS15 | 10072 | 0 | 0 | Off | Auto |
| RGN EST | 10073 | 0 | 0 | Off | Auto |
| STATEOP | 10074 | 0 | 0 | Off | Auto |
| STHRLND | 10075 | 0 | 0 | Off | Auto |
| WARINGH | 10076 | 0 | 0 | Off | Auto |
| WOLONDL | 10077 | 0 | 0 | Off | Auto |
| BAR DRL | 20000 | 0 | 0 | Off | Auto |
| CANBOLS | 20001 | 0 | 0 | Off | Auto |
| CSTLRGH | 20002 | 0 | 0 | Off | Auto |
| CHIFLEY | 20003 | 0 | 0 | Off | Auto |
| CLARNCE | 20004 | 0 | 0 | Off | Auto |
| CDGEGNG | 20005 | 0 | 0 | Off | Auto |
| FARNHCO | 20006 | 0 | 0 | Off | Auto |
| FAR WST | 20007 | 0 | 0 | Off | Auto |
| HUNTER | 20008 | 0 | 0 | Off | Auto |
| HUNTVAL | 20009 | 0 | 0 | Off | Auto |
| LITHGOW | 20010 | 0 | 0 | Off | Auto |
| LVPL RG | 20011 | 0 | 0 | Off | Auto |
| LOWNHCO | 20012 | 0 | 0 | Off | Auto |
| MANNING | 20013 | 0 | 0 | Off | Auto |
| MD LACH | 20014 | 0 | 0 | Off | Auto |
| MIDNHCO | 20015 | 0 | 0 | Off | Auto |
| NMGWYDR | 20016 | 0 | 0 | Off | Auto |
| NWENGLD | 20017 | 0 | 0 | Off | Auto |
| NTH OPS | 20018 | 0 | 0 | Off | Auto |
| NTHWEST | 20019 | 0 | 0 | Off | Auto |
| NTHN RIV | 20020 | 0 | 0 | Off | Auto |
| NTH TAB | 20021 | 0 | 0 | Off | Auto |
| ORANA | 20022 | 0 | 0 | Off | Auto |
| RGN NTH | 20023 | 0 | 0 | Off | Auto |
| RGN WST | 20024 | 0 | 0 | Off | Auto |
| TAMWRTH | 20025 | 0 | 0 | Off | Auto |
| THE LKS | 20026 | 0 | 0 | Off | Auto |
| WST OPS | 20027 | 0 | 0 | Off | Auto |
| BLD TEM | 30000 | 0 | 0 | Off | Auto |
| FARSHCO | 30001 | 0 | 0 | Off | Auto |
| HUME SB | 30002 | 0 | 0 | Off | Auto |
| ILLWARA | 30003 | 0 | 0 | Off | Auto |
| L GEORG | 30004 | 0 | 0 | Off | Auto |
| LOWWSTN | 30005 | 0 | 0 | Off | Auto |
| MIA | 30006 | 0 | 0 | Off | Auto |
| MID MUR | 30007 | 0 | 0 | Off | Auto |
| MID WST | 30008 | 0 | 0 | Off | Auto |
| MONARO | 30009 | 0 | 0 | Off | Auto |
| RGN STH | 30010 | 0 | 0 | Off | Auto |
| RV HIGH | 30011 | 0 | 0 | Off | Auto |
| RIVERNA | 30012 | 0 | 0 | Off | Auto |
| SHOALHN | 30013 | 0 | 0 | Off | Auto |
| STH OPS | 30014 | 0 | 0 | Off | Auto |
| SWSZ | 30015 | 0 | 0 | Off | Auto |
| STHN TD | 30016 | 0 | 0 | Off | Auto |
| WNGCARI | 30017 | 0 | 0 | Off | Auto |
Channels (System - GRN Sydney Area Group - Fire and Rescue)

| Channel Name | TGID | Record | Lockout | Alert Tone | Alert Level |
| --- | --- | --- | --- | --- | --- |
| SYD 1 | 10101 | 0 | 0 | Off | Auto |
| SYD 2 | 10102 | 0 | 0 | Off | Auto |
| SYD 3 | 10103 | 0 | 0 | Off | Auto |
| SYD 4 | 10104 | 0 | 0 | Off | Auto |
| SYD 6 | 10105 | 0 | 0 | Off | Auto |
| SYD 7 | 10106 | 0 | 0 | Off | Auto |
| SYD 8 | 10107 | 0 | 0 | Off | Auto |
| SYD 9 | 10108 | 0 | 0 | Off | Auto |
| SYD 10 | 10109 | 0 | 0 | Off | Auto |
| SYD 11 | 10110 | 0 | 0 | Off | Auto |
| SYD 12 | 10111 | 0 | 0 | Off | Auto |
| New 1 | 10112 | 0 | 0 | Off | Auto |
| New 2 | 10113 | 0 | 0 | Off | Auto |
| Gos 1 | 10114 | 0 | 0 | Off | Auto |
| Gos 2 | 10115 | 0 | 0 | Off | Auto |
| HAST 1 | 10117 | 0 | 0 | Off | Auto |
| SUMLND1 | 10118 | 0 | 0 | Off | Auto |
| PEEL 1 | 10119 | 0 | 0 | Off | Auto |
| WOLL 1 | 10120 | 0 | 0 | Off | Auto |
| WOLL 2 | 10121 | 0 | 0 | Off | Auto |
| S-HIGH1 | 10122 | 0 | 0 | Off | Auto |
| GOULB1 | 10123 | 0 | 0 | Off | Auto |
| MONARO1 | 10124 | 0 | 0 | Off | Auto |
| S-CST 1 | 10125 | 0 | 0 | Off | Auto |
| ACT-NSW | 10126 | 0 | 0 | Off | Auto |
| GRIFFTH | 10127 | 0 | 0 | Off | Auto |
| MURRAY1 | 10128 | 0 | 0 | Off | Auto |
| C-WEST1 | 10129 | 0 | 0 | Off | Auto |
| BLU MT1 | 10130 | 0 | 0 | Off | Auto |
| BLU MT2 | 10131 | 0 | 0 | Off | Auto |
| BOGAN 1 | 10132 | 0 | 0 | Off | Auto |
| LACHLN1 | 10133 | 0 | 0 | Off | Auto |
| Ops 1 | 10134 | 0 | 0 | Off | Auto |
| Ops 2 | 10135 | 0 | 0 | Off | Auto |
| Ops 3 | 10136 | 0 | 0 | Off | Auto |
| Ops 4 | 10137 | 0 | 0 | Off | Auto |
| Ops 5 | 10138 | 0 | 0 | Off | Auto |
| Ops 6 | 10139 | 0 | 0 | Off | Auto |
| Ops 11 | 10144 | 0 | 0 | Off | Auto |
| Ops 12 | 10145 | 0 | 0 | Off | Auto |
| Ops 13 | 10146 | 0 | 0 | Off | Auto |
| Ops 14 | 10147 | 0 | 0 | Off | Auto |
| Ops 15 | 10148 | 0 | 0 | Off | Auto |
| Ops 16 | 10149 | 0 | 0 | Off | Auto |
| Comms | 10154 | 0 | 0 | Off | Auto |
| Property | 10155 | 0 | 0 | Off | Auto |
| Fleet | 10156 | 0 | 0 | Off | Auto |
| Admin | 10157 | 0 | 0 | Off | Auto |
| Mech | 10158 | 0 | 0 | Off | Auto |
| Eng | 10159 | 0 | 0 | Off | Auto |
| Op Comms | 10160 | 0 | 0 | Off | Auto |
| Hazmat | 10161 | 0 | 0 | Off | Auto |
| Bushfire | 10162 | 0 | 0 | Off | Auto |
| FIU | 10163 | 0 | 0 | Off | Auto |
| Fire Prev | 10164 | 0 | 0 | Off | Auto |
| Train | 10165 | 0 | 0 | Off | Auto |
| Rescue | 10166 | 0 | 0 | Off | Auto |