US
>
Kentucky
>
Pike (County)
Listen
Feed
Genre
Listeners
Player Selection
Links
Status

Pike County Sheriff, Fire and EMS, KSP Post 9





East Kentucky District 8 ARES, 2m Linked Repeater System, Kentucky 220 Amateur Radio Emergency Net Linked Repeater System, All Regional Airports Including Overhead Aircraft, Kentucky National Guard, KC4KZT-2m-70cm Cross-Link Repeater

Public Safety

5
Online
Feed Notes
(As of - 12/14/2017 - the FCC will Vote to Repeal Net Neutrality Rules. Take's effect - 6/11/2018 - This Feed may be Terminated at any time because of this.)
Kentucky laws regarding the use of a Scanner Radio: http://www.lrc.ky.gov/Statutes/statute.aspx?id=18715
Mobile Scanner and Radar Detector laws for the U.S.: http://www.fireline.org/scanlaws/
This feed is not provided by any of the agencies listed herein. A person using the audio in this feed to further the commission of a crime can be prosecuted in accordance with Kentucky law, see link above.
The public should never respond to the scene of a call or interfere with law enforcement or first responder personnel.
"I would like to thank all law enforcement, fire personnel, and EMS personnel for their bravery, dedication, and service to our community. You are greatly appreciated!"
Note that all RadioReference streams have an unavoidable delay, due to buffering, of approximately 50+secs from live transmission to the internet stream. If you hear a report of severe weather approaching your vicinity, please note the information you're hearing is likely one minute or more old, which could be a significant delay during a severe weather event.
This public safety scanner feed was created for the purpose of informing the public in extreme emergency situations. Like the Raccoon flood of July 2010 in Pike County and the Johnson County Kentucky flood of July 2015. Pike County Kentucky Amateur Radio Ares Net. And the Eastern Kentucky Amature SkyWarn Radio Network. All the repeaters in the Eastern Kentucky Region have been linked together in case of an emergency. Trained and Certified Advanced Storm Spotter Training linked to the Storm Spotter Network, Also Reporting to the National Weather Office in Jackson Kentucky.
Pike County Scanner Master - Kentucky: Skywarn weather spotter training certificate.
https://www.facebook.com/pg/PikeCountyScannerMasterKentucky/photos/?tab=album&album_id=1918791898180629
Steps to Becoming A Skywarn Spotter: The National Weather Service encourages anyone with an interest in public service and access to communication, such as amateur radio, to participate as a Skywarn storm spotter. Volunteers include police and fire personnel, dispatchers, EMS workers, public utility workers and other concerned private citizens. Individuals affiliated with hospitals, schools, churches, nursing homes or who have a responsibility for protecting others are also encouraged to become a spotter. https://www.weather.gov/skywarn/
"How are you leveraging today's robust mobile technology to receive time-sensitive communications during emergencies? With the CodeRED Mobile Alert app – the nation's most downloaded public safety notification app – OnSolve enables subscribers to receive these notifications directly to their mobile device whether at home, on the road, or traveling around the country.
These mobile push notifications deliver relevant, location-based alerts based on GPS location to ensure you receive critical information when you are in a CodeRED client's jurisdiction."
https://www.onsolve.com/solutions/products/codered/mobile-alert-app/codered-mobile-apps-download/
"weatherUSA Alerts is a real-time weather alert service that sends out weather warnings, watches, tropical alerts, and other advisories as soon as they are issued by federal agencies including the National Weather Service. Alerts are sent to subscribers in the warned areas to a mobile device via text messages (SMS) or by e-mail. Premium users can also receive alerts via voice (phone) call."
http://www.weatherusa.net/alerts/
(Pike County Scanner Master) Kentucky https://www.facebook.com/PikeCountyScannerMasterKentucky/
(East Kentucky Amateur Radio Skywarn Net) https://www.facebook.com/Eastkyskywarn/
General Mobile Radio (GMRS) License - WQVI216 - Stanley, Robert T
http://wireless2.fcc.gov/UlsApp/UlsSearch/license.jsp?licKey=3672515
Grant 02/19/2015 Expiration 02/19/2020
Amateur Ham Radio (Technician Class) Amateur License - KN4PLR - Stanley, Robert T.
https://www.qrz.com/db/KN4PLR
Grant 10/09/2018 Expiration 10/09/2028
(My Email: sovereign.stanley9@gmail.com)
My Spotter Network User Name is
(sovereign)
I am Located on Raccoon Road,41557 in Pike County, Kentucky, My local town is Pikeville, Kentucky 41501.
Using the Zello (PTT) Push to Talk Application
to Communicate with other Weather Spotters in the Region. My Zello account name is
(scanner_master)
my channel is
(Pike County Scanner Master & Weather)
if you are a spotter and would like to join send a private message to Pike County Scanner Master on FaceBook.
We use Scanners, Software Defined Radios and portable Radios to provide incidents as it happens (We post only information we receive over the air on the radio, scanner, etc we go on the same information that we post). We will do our best to keep everyone up to date as possible as we receive the information through comments or individual posts.
Computers and equipment:
Feed computers: the primary computer is a Dell studio 1555, the backup machine is an HP a850y.
Research computers: the primary
computer is a Dell 730x, the mobile machine is a 10.1 Next Book. Using a Software Defined Radio.
Cell phones and tablets: Samsung Galaxy Note 4, 2016 Galaxy Prime,
First generation iPad mini and iPad 32 Gig. 2017 iPad running Uniden siren app, using
Radar Scope
and
Climateviewer 3D
for weather monitoring.
, Toshiba Thrive, Back up Cell Phone is a BLU Win HD. Running Window's Phone 8.1
Radios: Yaesu FT 450D,
WouXun KG-
UV9D, Baofeng UV-5R-E and a Baofeng UV-82L,
FRS GMRS radios are the Cobra PR4700-2WXVP 12mi.
Scanners: Uniden BCD 536 HP, BC-Sportcat 150, BC-80XLT, Radio Shack Pro 96, Radio Schack Pro 2026
Antenna Aerials: Main scanner antenna. SD 2000U/N Wide-band super discone antenna, working on 100-2000 MHz, 23 feet off the ground. SDR antenna, Discone working on 25-1,300 MHz, 10 feet of the ground. YAESU FT-450D antenna, AV-620 multiband vertical working 6, 10, 12, 15, and 20-meter amateur frequency bands.
Wrist Watch is a Casio Pro Trek PRW-2500T - Titanium. / Casio G-Shock 9300 Mud Man.
Below is detailed information about the systems I monitor.
: Multistate monitoring Ky, WVA, VA.
Depending on Atmospheric Conditions the quality on the radio transmission will vary. Unlike HF Propagation that bounces off the Ionosphere VHF, and UFH Radiate's out into space.
Tropospheric-Ducting, propagation occurs when signals are reflected scattered or refracted in the troposphere. "Ducting" effects occur primarily because of temperature inversions at a height of between 500m and 1500m, and occasionally up to 3000m.
Warm-Air Inversion, The boundary layer is the part of the atmosphere which is closest to the ground. ... An inversion occurs when the normal temperature (warm air below, cold air above) profile is reversed, creating a stable configuration of dense, cold air sitting below lighter, warm air.
Knife-Edge, In electromagnetic wave propagation, the knife-edge effect or edge diffraction is a redirection by diffraction of a portion of the incident radiation that strikes a well-defined obstacle such as a mountain range or the edge of a building.
Sporadic E or Es is an unusual form of radio propagation using characteristics of the Earth's ionosphere. Whereas most forms of skywave propagation use the normal and cyclic ionization properties of the ionosphere's F region to refract (or "bend") radio signals back toward the Earth's surface, sporadic E propagation bounces signals off smaller "clouds" of unusually ionized atmospheric gas in the lower E region (located at altitudes of approx. 90 to 160 km). This occasionally allows for long-distance communication at VHF frequencies not usually well-suited to such communication.
Kentucky:
Pike: Pike County Airport-Hatcher Field (KPBX), Citizens Band (CB) Ch. 6, 19, Family Radio Service (FRS)-General Mobile Radio Service (GMRS), Hospitals & Medical, Pike County Cities-Pikeville, Coal Run, Elkhorn, Fire & EMS Dispatch from KSP Post-9 plus Fire Departments, all Law Enforcement, all Public Works, Railroads, Skywarn/Amateur Radio, KSP Post 9 - CVE Region 6 - KSP 9 - Pikeville, KSP State Wide
KSP Repeater's in Pike County: 3-Fixed: Dicks knob state Forestry tower,119.kw w on Hwy Phelps, Ky Pike County, Mousie Ky, Boons Ky, Pikeville Ky, Salyersville Ky.
Pike County Repeater's Pikeville,Phelps,Canada,Dorton,Meta,Elkhorn,Phelps,Shelby,Shelby Gap,Virgie,Buskirk,Little Dixie,Pleasant Valle,Sidney,Ranson,Turkey Creek,Turkeyfoot,South Williamson,Freeburn,Bill,Ellwood,Esco,Jamboree,Johns Creek ju,Kimper,Marrowbone,Nigh,Argo,Miller Creek.
Fire Departments: Dorton 154.3550 WNLI 695 Pike County Fire Net Dorton 460.6000 465.6000 WNIL 231 Shelby Valley Fire Dept. Meta 460.5750 465.5750 KNEY 506 Johns Creek Fire Dept. Phelps 154.3550 WNLI 695 Pike County Fire Net Pikeville 153.9500 154.3550 Pike County Fire Net Pikeville 154.3700 KNHR Coal Run Village Fire Dept Dorton 462.9500 467.9500 462.97950 467.97950 WNWW 937 Pike County Rescue Squad S Williamson 155.3400 KNHM 799 Williamson Appalachian Region. Pikeville 155.2800 155.3400 Methodist Hospital of KY.
American Electric Power, Operates on an EDACS 800 MHz Trunked System. All sounding locations are monitored but not set as a priority.
Citizens band radio (also known as CB radio) Channel 9 is restricted by the FCC to only emergency communications and roadside assistance. Most highway travelers monitor channel 19. CB radio is still used by truck drivers, and remains an effective means of obtaining information about road construction, accidents, and police speed traps. Although I don't live next to a busy highway, both of these are on a Priority monitored Frequency.
(East Kentucky Ham Radio Nets)
: Thursday's at 8:00 pm EDT-145.150/R 127.3Hz – The Pike County ARES Skywarn Net. *E Ky. Link System* Net Controller, Allen Epling, Located in Virgie Kentucky.

: Nightly 10:00 pm EDT – E. Ky. Link System – The Friendship Net. *E Ky. Link System* Net Controller, Daniel, Located in Louisa Kentucky.
(Pikeville Amature Radio Repeaters)
CSX: CSX Railroad: Big Sandy Sub. from Shelby, Ky. to Elkhorn City, KY. Road Freq. 160.230 Dispatcher 160.320, CSX Kingsport Sub. from Elkhorn City, KY to Haysi, Va Road Freq. 161.100 Dispatcher 161.520.
Norfolk Southern: NS Railroad Pocahontas Division Bluefield, WV to Iaeger, WV road Freq. 160.650, Iaeger, WV to Williamson, WV road Freq. 160.380, Auville, Williamson, Weller, Elmore Yard 161.190, Williamson, WV phone patch 160.275, Bluefield, WV phone patch 160.515.
800 Mhz frequencies: In Kentucky Pikeville, Jackson, Hoskinston, Parkers Lake, Manchester, Salyersville, and Elkhorn City.
Aircraft: Pikeville 109.7000 WRLL 2234 Pike County Airport Board Pikeville 121.2250 KBM 6 Pike County Airport Board Pikeville 122.8000 7 KO Pike County-Hatcher Field.
All aircraft are being tracked 4000 feet and above using SDR Software.
Floyd: Sheriff, Fire, EMS, Big Sandy Regal Airport K22. Certain Department's and Frequencies are on a priority.
Johnson: Sheriff, Fire, EMS, Certain Department's and Frequencies are on a priority.
Johnson County Kentucky Ham Radio Club: KY4ARC, https://www.ky4arc.com/
"KY4ARC meets monthly on the First Thursday of the month at the Mayo Methodist Church (325 Third Street), Paintsville, Kentucky at 7:00p.m. (1900hrs). VE testing starts at 6:00pm (1800hrs) . Come early if want to fellowship with others. For those who use GPS, the co-ordinance is 37° 48' 58.61"N by 82° 48' 26.25"W."
KY4ARC Repeater Information, https://www.ky4arc.com/index_files/Page728.htm
Martin: Sheriff, Fire, EMS, Certain Department's and Frequencies are on a priority.
Letcher: Sheriff, Fire, EMS, Certain Department's and Frequencies are on a priority.
West Virginia:
Mingo: Sheriff, Fire, EMS, Certain Department's and Frequencies are on a priority.
My friend Eddie's Amateur Radio Page, AI4UK: https://www.qsl.net/ai4uk/ On this site you will find information about Amateur Radio with plenty of links for Emergency and Weather information.
Scanning Kentucky and West Virginia Web Site, http://ai4uk.com/
Local Amateur Radio Repeaters in the area, https://www.qsl.net/ai4uk/repeaters.html
Virginia:
Buchanan: Sheriff, Fire, EMS, Certain Department's and Frequencies are on a priority.
Dickenson: Sheriff, Fire, EMS, Certain Department's and Frequencies are on a priority.
Wise: Sheriff, Fire, EMS, Certain Department's and Frequencies are on a priority.
In the section below are links to weather modification programs and technologies. Deliberate or accidental, the Earth's climate is being changed and altered. Alongside are links to help track weather, climate, disasters and how to communicate off-grid using Ham Radio. Jim Lee the Creator of
Climateviewer 3D
and
Weather Modification History
has Inspired me to keep and maintain my online feed in hopes it will save lives.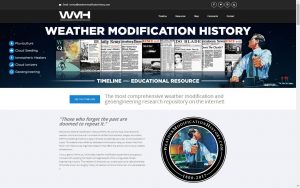 Weather Modification History:

Words and website by Jim Lee, Creator
"
Weather Modification History was created to inform the public of the extensive history of weather modification experiments. Our goal is to increase public awareness and debate about the moral and legal implications of today's multi-billion dollar weather control industry and the coming global governance of sunlight-blocking geoengineering schemes. This website will empower you to take action and raise awareness of the little known but lengthy history of weather modification and the men who dare attempt it."
https://weathermodificationhistory.com/
ClimateViewer 3D:

Words and website by Jim Lee, Creator
"ClimateViewer 3D is an open-source geophysical monitoring map with live imagery on a gorgeous 3D globe. CV3D features an encyclopedic list of exclusive maps resulting in thousands of hours of personal educational bliss not found anywhere else on the internet, let alone in one place.
ClimateViewer 3D is an amazing source of unique maps covering climate change, pollution, privacy, exploration, migration, geosciences, architecture, green energy solutions, sunken ships, airplane crash sites, weather modification and more. Create a custom mix of map layers and share it with your friends (Click the icon). ClimateViewer 3D is a fun way to learn about your world by combining layers and connecting the dots!
ClimateViewer 3D's live updates on severe weather, earthquakes, fires, and other life-threatening events will give you peace of mind in one all-inclusive app. With cutting-edge technology, real-time geophysical monitoring, and a visual tour of our planetary problems, ClimateViewer 3D is your source for up-to-the-second situational awareness on a stunning 3D globe."
http://climateviewer.org/
NOAA Weather Radio All Hazards (NWR) (SAME) location codes for Kentucky:
http://www.nws.noaa.gov/nwr/coverage/ccov.php?State=KY
(Earth. Nullschool Wind Map) See current wind, weather, ocean, and pollution conditions, as forecast by supercomputers, on an interactive animated map.
https://earth.nullschool.net/
"
The FCC has issued six types of license
operator class
, each authorizing varying levels of privileges. The class for which each licensee is qualified is determined by the degree of skill and knowledge in operating a station that the licensee demonstrates during an
examination
to
volunteer examiners
(VEs) in his or her community."
https://www.fcc.gov/wireless/bureau-divisions/mobility-division/amateur-radio-service
KY ARRL Section Manager Blog · Local Information Index · Links of Interest to KY Amateurs · Kentucky Amateur Radio News. KYHAM User Forums. KYHAM Email List. Emergency Communications. KY ARRL Section News. Local Area Contact Info. Links for. KY Amateurs. KY Amateur Radio News. KYHAM Staff and History.
http://kyham.net/
Kentucky Mesonet Observations The Kentucky Mesonet is a network of automated weather and climate monitoring stations being developed by the Kentucky Climate Center at Western Kentucky University to serve diverse needs in communities across the Commonwealth of
Kentucky. http://www.kymesonet.org/
The Kentucky Morning and Evening Phone nets. Morning Net. Frequency = 3810kc Time = 8:30am Eastern Time. Monday KN4IV Larry. Tuesday WD4JDI Donnie. Wednesday N8POG Rick. Thursday N4IYX Edgar. Friday WA4SKU Mike. Saturday K4FRC Frank. Sunday K4FRC Frank. Evening Net. Frequency = 3816kc Time ...
https://sites.google.com/site/kyphonenet/
Kentucky Amateur Radio Repeaters - Quick Search
https://www.repeaterbook.com/repeaters/index.php?state_id=21
Kentucky District 8 Local Information and Forms:
http://www.kyham.net/county/d9.html
NOTICE: Any people, person, or type of equipment involved with the reproduction of this unencrypted public safety feed will not be held responsible if the contents of this feed are used for unlawful purposes including but not limited to the assistance of a crime/evading police. We are not responsible in any way for misuse of this feed. We will not rebroadcast any part of this feed with illegal/unlawful intentions. Any encrypted/scrambled transmissions will not be decoded & resent for ANY reason. This feed is being received under KRS 432.570 subsection 4(c) & is meant only for legal informational purposes only.